Health and Safety Update
The annual health and safety update will take place on the morning of Wednesday 6 September, through MS Teams. Places are still available. Details of the programme for the morning and a link to the booking form can be found here REHIS Annual Health and Safety Update – REHIS
Northern and Southern Centres
Both the Centres are holding their AGMs with events in September – for more information please see Events Archives – REHIS
REHIS Community Training Annual Presenter's Update
Wednesday 11 October 2023, Dewars Centre, Perth
This is a full day event, 9.15 – 4.15 and for the first time in four years will in person only. We have scheduled a variety of speakers to present on a wide range of topics in Food Hygiene, First Aid, Health and Safety and other related topics. This is an ideal event for Presenters to hear about any recent updates and changes, ask questions and facilitate CPD. For more information, please visit REHIS Presenters Update Seminar – REHIS
Specialist Investigator's Course
The specialist investigator's course is running in Stirling, 28 August to 1 September. This course was fully subscribed. If you missed out on a place on the course and would be interested in attending the course in the future, please e mail contact@rehis.com to indicate this.
Professional Examinations
Candidates for the REHIS Diploma in Environmental Health and SFSORB Higher Certificate qualifications, intending to sit professional interviews in September, have submitted the required portfolio or case study/reports. The next diet of interviews will take place at the Carnegie Conference Centre in Dunfermline on 26 – 28 September 2023. We wish the very best of luck to all candidates.
Learning Resources and CPD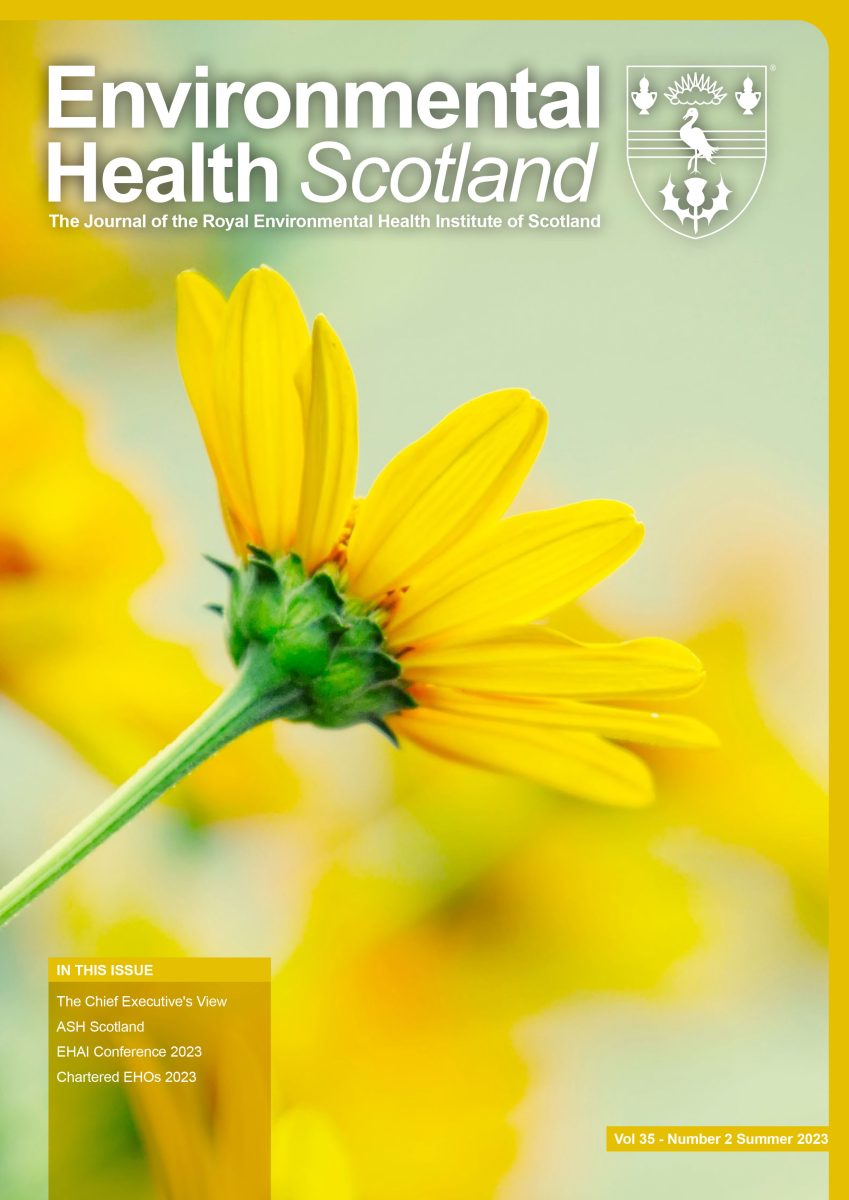 We would like to remind all members of the new learning resources section in the members only area of the website, where links to CPD opportunities can be accessed. CPD submissions for 2023 should be with the Institute by 31 January 2024 and we would remind all scheme participants that the online system allows CPD to be recorded 'as you go', and attachments to be added, to avoid the need to search about looking for records at the end of the year. We would encourage EHOs to seek to achieve Chartered EHO status, demonstrating commitment to ongoing professional development and to the profession. The Scheme of Continuing Professional Development is available on the website here.
Summer Journal
The Institute's Summer 2023 edition of Environmental Health Scotland is available in two formats- pdf and e-magazine.